Janet Burns has been with University Family Medicine Center, PA since the office opened. She moved to Florida from Ohio for Dr. Burns to complete his residency. The rest is history! Janet is a physical therapist by training but enjoys working in the family practice at this time. Janet enjoys biking, running and spending time with their 5 kids on the weekends.
Please feel free to email Janet with any needs from our practice. janet@universityfamilymed.com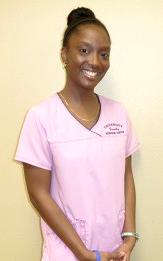 Meet our office manager: Alicia has been with UFMC for over 10 years.
She has added impeccable leadership to our team!
"I enjoy volunteering, traveling, taking/editing photos, and most important..encouraging and sharing the love of God with others."
Alicia@universityfamilymed.com
Christina manages our billing, insurance, and collections. She loves attending the billing needs of our patients, and can answer all of your financial questions concerning UFMC financial policies and your insurance plan. She is cross trained in different areas of our office, and would love to help assists you with all of your financial and healthcare needs.
Crystal is our referral coordinator. She works inside of our business office working hand and hand with specialist here in Central Florida to provide patients the access to the proper specialist, as well as giving them a referral to attend. She's also in charge of medical records and she handles all the business for patients and specialist with in a quick 24 hour turn around. She's a graduate from UCF with a degree in Health Sciences Pre-Clinical and minored in Sociology. To add even more to the list of her accomplishments, she's also a licensed EMT!
Ashley is one of our opening front staff member here at UFMC. She is a UCF graduate and is expanding her horizons in healthcare by providing the best front staff service to our patients. She's also filled in as part-time medical records. If you have general questions about our practice, ask Ashley, she's got a good answer for almost anything!