LIVE, WORK, MOVE SEMINOLE 5K!
Join us on June 25, 2018!
We as an office will be attending the 5k run/walk at Sanford Riverwalk/Fort Mellon Park.
It is hosted by Florida Health, and we want you to come out with us
We are hoping this is a healthy year for you, and we want to see you continue your health journey at the 5K with us. All patients are welcome to come with us.
Here is some info: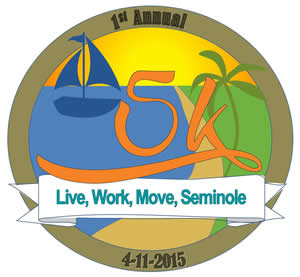 Celebrate your health by walking or running the 1st annual 5K in Seminole County for National Public Health Week and help us become the healthiest county in Florida!
$25 Early-Bird Registration through March 31st, and $30 April 1-April 10th.
REGISTER HERE and your Registration fee includes commemorative finisher's medal, t-shirt and back pack.
Awards and recognition will be given in the following categories in Seminole County, so please be sure to register with only one designated group if applicable:
Employer with the most employees participating in the race

School with the most students and staff participating in the race

Faith-based Community with the most members participating in the race

Neighborhood Community with the most residents participating in the race

Social, Recreation or Fraternal Group with the most members participating in the race.
For organizations wanting to sponsor or participate as a vendor, please contact Venise White at (407) 665-3008